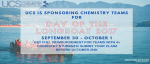 September 23, 2017
Check out this link for more information about sports reimbursements.

September 13, 2017
UBC Chemistry apparel is now available. Check out the page for more information.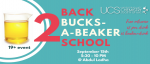 September 10, 2017
This is the FIRST 2-Bucks-a-Beaker of the semester! Come and kick off the school year with cheap alcohol and fun times with the Undergraduate Chemistry Society. Bring your friends!! Date: Friday, September 15 Time: 5:30 – 10:00 pm Location: Abdul Ladha Science Student Centre Free to enter. $2 drink tickets. $5 beaker + drink ticket. […]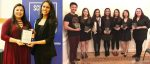 March 30, 2017
The Undergraduate Chemistry Society is honoured to receive this year's Science Student Impact Award and to have one of our team members being an AMS Just Desserts Award recipient. Thank you to everyone who has supported us throughout the year! Photos are courtesy of the UBC Science Undergraduate Society.

March 19, 2017
Worried about your upcoming finals? Looking for some extra practice questions to help you ace those finals? The Undergraduate Chemistry Society (UCS) is here to help is selling final exam packages for CHEM 123, CHEM 213 and CHEM 218! Date: March 27 – April 4 Time: 10:00 – 4:00 pm every day Location: Outside of […]

March 12, 2017
It's time for us to assemble the 2017/18 UCS Executive team! The UCS executive team is a group of undergraduate chemistry students that host various academic and social events throughout the year including Faculty Meet and Greet, 2-Bucks-a-Beaker, Chemistry Lab Tours, and much more! Being an executive member is a great way to learn the "behind-the-scenes" […]

February 19, 2017
Have you ever wondered what a real research laboratory looks like? Thinking about summer research opportunities? Participate in the Undergraduate Chemistry Society's (UCS) lab tours to find out! The UCS is hosting two days of lab tours at different UBC Chemistry research labs. Students will learn more about each professor's research over a catered lunch […]

February 8, 2017
This is the LAST 2-Bucks-a-Beaker of the semester! Come celebrate the end of the semester with your Undergraduate Chemistry Society! Date: Friday, March 24 Time: 5:30 – 10:00 pm Location: Abdul Ladha Science Student Centre Free to enter. $2 drink tickets. $5 beaker + drink ticket. Free chips, soda, water, juice and pizza provided. The […]

February 8, 2017
Interested in research in the field of chemistry? Curious about the type of projects undergraduate chemistry students can be involved in for CHEM 445 RLE and CHEM 449? Come to this year's Chemistry Undergraduate Research Conference (CURC) to find out! CURC features presentations from undergraduate chemistry students conducting research on a variety of topics including asymmetric […]

February 8, 2017
Are you a chemistry student interested in joining the Undergraduate Chemistry Society as an executive member for the 2017/18 academic year? The UCS executive team is a group of undergraduate chemistry students that hosts various academic and social events throughout the year including Faculty Meet and Greet, 2-Bucks-a-Beaker, Chemistry Lab Tours, and much more! Being an […]