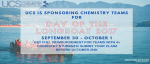 September 23, 2017
Check out this link for more information about sports reimbursements.

September 13, 2017
UBC Chemistry apparel is now available. Check out the page for more information.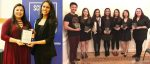 March 30, 2017
The Undergraduate Chemistry Society is honoured to receive this year's Science Student Impact Award and to have one of our team members being an AMS Just Desserts Award recipient. Thank you to everyone who has supported us throughout the year! Photos are courtesy of the UBC Science Undergraduate Society.